CUHK Shaw College Becomes First Hong Kong Organisation to Receive Platinum Facilitation Impact Award
The Shaw College of The Chinese University of Hong Kong (CUHK) was honoured with The 2019 Platinum Facilitation Impact Award, becoming the first Hong Kong organisation to receive the highest award from the International Association of Facilitators (IAF). Shaw College was recognised for its effort and outstanding achievement in cultivating cultural diversity and inclusion in the college community and for facilitating student development. Shaw College has worked with the International Association of Facilitators – Hong Kong Chapter (IAFHK) since 2015, to introduce the "Enabling S.H.A.W." project. The project applies facilitation in the College's Cultural Integration Programme (CIP), overseas learning projects, staff training, administration and many other projects. It is hoped that students and staff will actively participate, think deeply in order to understand other people's positions and develop a "heart-to-heart connection" at the end.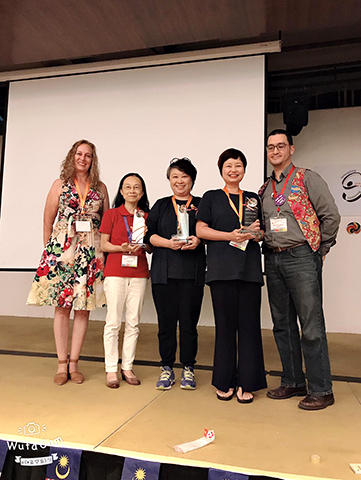 Facilitation is the act of engaging participants in creating, discovering, and applying learning insights. Facilitation usually involves a "guide on the side" who designs the process, asks questions, moderates discussions, and helps participants share their wisdom in problem solving. This necessary and evolving skill is particularly important for talent development and for team management professionals to boost their efficiency and performance.
"Enabling S.H.A.W." has four orientations – System, Humane, Appreciation, and We>I, as well as three primary objectives – (a) enhance system and processes in facilitating student learning and development, as well as college administration; (b) cultivate diversity and inclusion in the college community; and (c) align goals, principles and processes on key student and management issues.
Prof. Andrew Chan Chi-fai, Head of Shaw College, also the proposer of "Enabling S.H.A.W.", said, "Facilitation is a novel approach for students, the College and society. It suits the people-oriented culture and brings out the spirit of the Five Pillars of Shaw College. Through facilitation, colleagues have more interaction and inspiration through sharing their experiences and challenges at work. Also, students can personally experience ways of life different from their own. I hope that the Shaw team will have a better development through facilitation, preparing our students as the leaders of the new generation to serve the community in the future."
One of the key objectives of "Enabling S.H.A.W." is cultivating diversity and inclusion. In 2016, the College newly launched its "Cultural Integration Programme". Different from programmes of the same kind in the past, the College collaborated with IAFHK in the selection, training and assessment of Cultural Integration Facilitators. 15 selected students were encouraged to be leaders with international perspective, received training in facilitation, communication and leadership, and joined hands with the College in the promotion of cultural integration of local and non-local students.
Miss Ruby Cheung, a graduate of Shaw College 2017, was one of the Cultural Integration Facilitators. She said that the training gave her an understanding of how to effectively help exchange students integrate into Hong Kong's culture, and at the same time appreciate the culture of their home countries. What's more, the facilitation skills enabled her to establish mutual understanding with and respect for people from different cultural backgrounds. It also became the key to effective communication with others in the workplace.
IAFHK appreciated Shaw College for its openness to challenges, and was very pleased to witness the effective use of facilitation in college programmes and affairs, as well as in the process of decision-making. Communication and collaboration have been well demonstrated, improving work performance and effectiveness in the College community.
This article first appeared in the website of Communications and Public Relations of CUHK in Dec 2019, reprinted with permission from Communications and Public Relations Office, The Chinese University of Hong Kong.